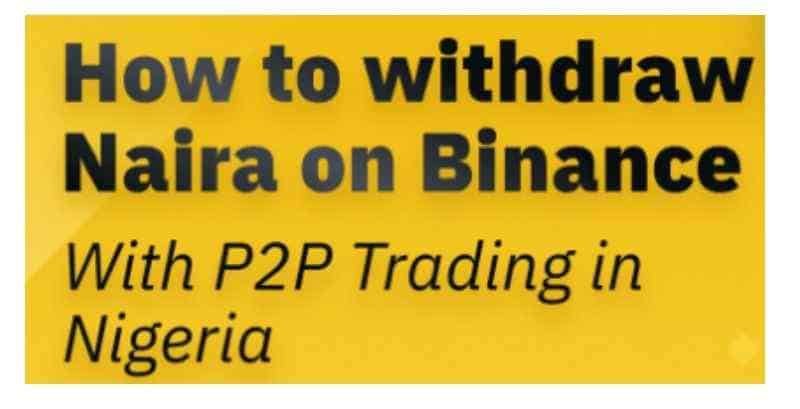 As Binance continually enhances its platform to empower users with versatile crypto-fiat functionalities, we're excited to unveil yet another game-changing feature – the NGN Fiat/NGN addition to the P2P platform. This groundbreaking update opens up a world of possibilities, enabling you to effortlessly withdraw your crypto gains from Binance directly into your Nigerian bank account.
How to Withdraw from Binance to Nigerian Bank Account
To begin, let's recap the recent innovations that have paved the way for this seamless withdrawal process:
NGN Transfers Between Wallets: Binance introduced the ability to transfer NGN balances between wallets, facilitating swift and hassle-free fund movements among Binance users.
NGN Fiat Balance on P2P: A new NGN Fiat balance has been integrated into the P2P payment method, allowing you to conduct transactions using your exchange wallet balance.
NGN / NGN P2P Pair: In a recent milestone, Binance launched the NGN / NGN trading pair on the P2P platform. This groundbreaking addition empowers you to directly convert your Naira balance on Binance into your Nigerian bank account through commission-free exchange transactions with fellow Binance users.
Withdraw Money from Binance to a Bank Account in Nigeria
A Step-by-Step Guide to Binance Naira Withdrawals
Embarking on a journey to withdraw your Naira from your Binance wallet to your Nigeria bank account is now simpler than ever. Follow these comprehensive steps to navigate the process:
Step 1: Transfer to P2P Wallet
Access the "Wallets" section from the bottom navigation bar.
Tap "P2P" and proceed to "Transfer."
Ensure you're transferring from your "Spot" wallet to your "P2P Wallet."
Choose "NGN" as the asset to transfer and specify the amount.
Confirm the transfer to your P2P wallet.
Step 2: Initiate P2P Transaction on Binance
Return to the home page and click on "P2P Trading."
Navigate to the "Sell" tab and select "NGN" as the crypto asset.
Browse through the available ads and choose one that suits your needs.
Click "Sell" to initiate the transaction.
Step 3: Place Binance Withdrawal Order
Enter the desired withdrawal amount for your bank account and click "Sell NGN."
Step 4: Facilitate the Binance Transaction to Naira Account
Patiently await payment from the buyer. During this time, your NGN balance will be temporarily frozen, following the same principle as cryptocurrency transactions.
Once the buyer completes the payment and marks the order as paid, the "Confirm transfer" button will activate.
Prior to confirming, verify that the payment has been received in your bank account.
Step 5: Confirm Transfer from Binance to Nigerian Bank Account
If the payment is successfully received, confirm the transfer to finalize the transaction.
In a matter of seconds, the Naira balance will be credited to the buyer's P2P wallet, marking the successful withdrawal of Naira to your Nigeria bank account.
Embrace Effortless Binance to Bank Account Withdrawal in Nigeria
This comprehensive guide has illuminated the path to effortlessly withdrawing your Naira from your Binance wallet directly into your Nigerian bank account. The introduction of NGN Fiat/NGN additions on the P2P platform, coupled with the innovative NGN / NGN trading pair, showcases Binance's commitment to providing a user-centric ecosystem that seamlessly bridges the gap between the crypto and fiat worlds.
Unlock the power of hassle-free Naira withdrawals with Binance P2P today, and experience a new era of convenience and financial flexibility.
Trade on Binance P2P Now and Empower Your Financial Journey!