Cryptocurrency enthusiasts and traders seeking not only cutting-edge features but also rewarding opportunities need look no further than StormGain, a prominent player in the crypto trading space. StormGain has rolled out a lucrative referral program, allowing users to earn substantial rewards by inviting friends to join the platform.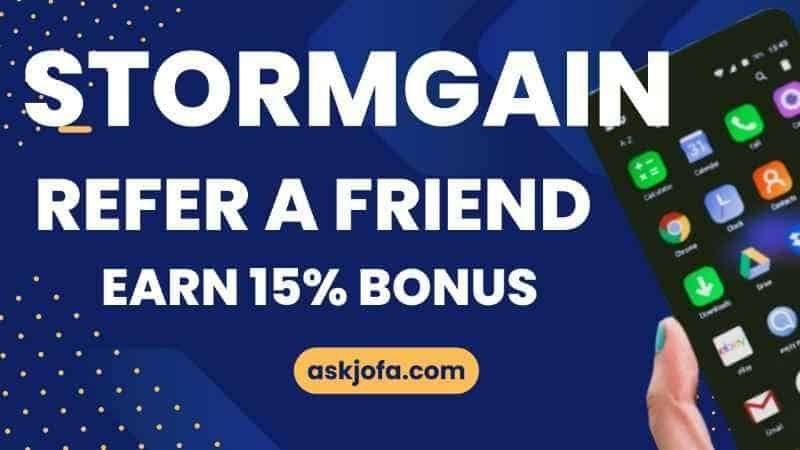 Unlocking the Power of Referrals
How It Works:
StormGain's referral program is designed to be straightforward and enticing, making it easy for users to participate and reap the benefits:
Active StormGain Account: To become a referrer, start by ensuring you have an active StormGain account.
Sign In and Obtain Your Referral Link: After signing in, head to the "Refer a Friend" tab on the platform. Copy the unique referral link provided and share it with potential invites.
Invite Friends: Spread the word by sharing your referral link with friends interested in crypto trading. The moment they register using your link, you automatically become a participant in the program.
15 Websites to Refer a Friend and Earn Big [Proofs of Earnings]
Earning Potential:
As a referrer, you have the opportunity to gain a substantial 15% of the funds your referred friends withdraw from the StormGain crypto miner. Furthermore, your friends receive a warm welcome with 3 USDT upon registration.
No Limits, No Time Constraints:
The beauty of this program lies in its flexibility. There are no limits on the number of friends you can refer, and there's no time constraint on earning your bonuses. StormGain encourages its community to thrive together, fostering a sense of unity and shared success.
Key Program Details:
Monthly Payouts:
Any earnings accumulated through the referral program are credited to your trading account in USDT on the last day of each calendar month.
Transparent Tracking:
Keep a close eye on your referrals and bonuses through the dedicated "Refer a Friend" tab on the StormGain platform. This user-friendly feature displays the number of registrations via your link and the corresponding reward amounts.
Regular Updates:
Stay informed with real-time insights into your referral earnings as information on the rewards due is updated every 24 hours at 21:00 GMT.
Rules of Participation and Additional Provisions:
StormGain has established specific rules to maintain the integrity of the referral program:
Participants must have an active StormGain account.
The referral link must be used through the web version for proper registration.
StormGain reserves the right to update program terms and exclude accounts without explanation in case of violations.
A Community that Grows Together, Gains Together:
StormGain's "Refer a Friend" program goes beyond a simple referral initiative; it's a celebration of community and shared success. As the platform evolves, so do the opportunities for users to benefit and thrive in the dynamic world of cryptocurrency trading.
Don't miss out on the chance to enhance your crypto journey with StormGain. Refer a friend today and enjoy a generous 15% bonus on their mined funds withdrawal. Join the community that grows together and gains together!
Additional Insight:
StormGain not only offers a lucrative referral program but also allows users to earn a commission when their friends trade on the platform. With an opportunity to earn 15% of all brokerage fees, StormGain provides users with a personal referral link upon registration. Share this link with friends, and as soon as they sign up and start trading, you'll be on your way to earning substantial rewards.
In conclusion, StormGain is not just a platform for crypto trading; it's a community where success is shared. Seize the opportunity to maximize your earnings with StormGain's Refer a Friend program, and embark on a journey of financial growth and community camaraderie.