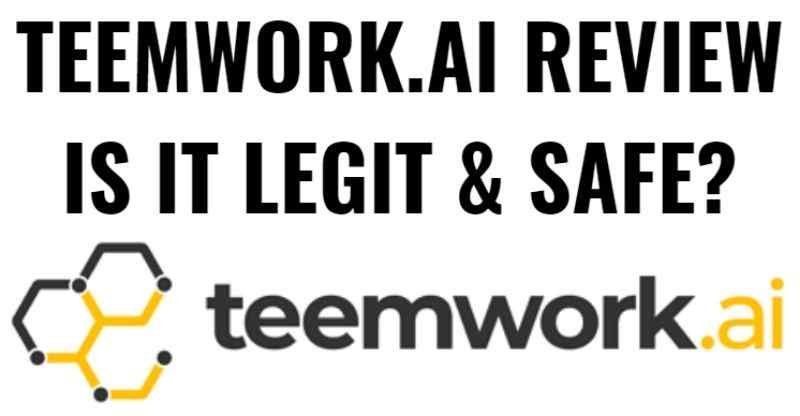 Teemwork.ai is a micro job website that offers IT-related tasks and claims to provide an opportunity to earn extra income. If you are wondering whether Teemwork is a scam or a legit source of income, this comprehensive review will address that concern and explore other aspects of the platform. By examining the site's earning potential, payment system, and tasks, you will have a clear idea of what Teemwork.ai has to offer and whether it is worth joining.
What is Teemwork.ai Work From Jobs?
Teemwork.ai is a legitimate micro job website that pays you for completing tasks. Unlike many other micro job websites available online, it has a different earning structure. To get a clear picture of how it works, let's examine the earning opportunity it offers.
Teemwork.ai Reviews: Is Teemwork.ai Work From Home Jobs Legit Or Scam
Teemwork.ai Earning Opportunity – Crowdsourcing Tasks
Once you become a member of Teemwork.ai, you will have access to crowdsourcing tasks on a different website called the Universal Human Relevance System (UHRS). The site creates a unique UHRS account for you to access the tasks that are related to the job position you applied for when you registered for Teemwork.
To access the tasks, you need to log in to the UHRS site using the account that Teemwork created for you.
 Teemwork will send you the login details once you are accepted for the job you applied for. Once you have logged in to the UHRS site, you will see all the available tasks in the Marketplace section. These tasks typically require you to transcribe videos, do data entry tasks, collect data using search engineshttps://askjofa.com/create-and-verify-skrill-account/, and more. Each task indicates how much you can earn, and they come with their own set of guidelines that you need to follow.
Before you take on any task, make sure you have read and understood the guidelines. Some tasks will require you to undergo a training session. Once you have read the task guidelines and completed the training, you will then have to take the Qualification test.
Passing The Teemwork.ai Qualification Test
Each task has a different number of maximum attempts to take the qualification test and different numbers of qualification hits. To verify that you have passed the qualification process, click the "Start Judging" button. If it is not enabled, you have failed the qualification test.
If you fail all attempts to pass the qualification test, you will be removed from the task. If you qualify, you get to do the task. Once you have completed the task, your work will need to be reviewed before you get paid. This process takes time, and the site does not specify how long it will take.
Status of Teemwork.ai Task
You can view the status of the tasks on the "My Report" page of the UHRS dashboard. Once you are done with the task, you can work on it again as long as it still has available hits. However, you will have to go through the same process again.
Teemwork.ai Work From Home Payment Methods
Teemwork.ai's payment system sets it apart from other microtask sites as payments are made exclusively through PayPal or Payoneer. I suggest using Payoneer, which offers a unique advantage. By signing up for Payoneer through the provided link, you can claim a $25 gift cash bonus.
The site has a payment schedule that it adheres to, and it creates an invoice for you once a month if you reach their payout threshold of $20, which is relatively high. The service period starts from the 1st day of the month and ends on the last day of the month, e.g. December 1st to December 31st. If you reach the payout threshold during that month, Teemwork will send you an email with your invoice and instructions on how to review and confirm it.
You will need to confirm the invoice within 48 hours of receiving that email. Failure to do so means you have waived the payment for the month. You will then have to wait for the next invoice period (the next month) before you can withdraw your earnings.
Teemwork.ai Work at Home Jobs Offers
Teemwork.ai offers a range of solutions for businesses looking to automate their workflows and streamline their operations.
The company specializes in artificial intelligence and machine learning technologies that can help companies automate tedious and repetitive tasks.
Teemwork.ai's solutions can be customized to fit the unique needs of each business, whether they are looking to automate their customer service, sales, or back-office operations.
Teemwork.ai's solutions can also integrate with a variety of other software platforms, making it easy for businesses to incorporate automation into their existing workflows.
Teemwork.ai prides itself on providing exceptional customer service and support, ensuring that its clients receive the guidance and assistance they need to successfully implement automation solutions.
Teemwork.ai's solutions have been used by a variety of companies in industries such as finance, healthcare, retail, and more, helping them to increase efficiency, reduce costs, and improve customer satisfaction.
How to sign up for Teemwork.ai Work From Jobs?
Signing up for Teemwork.ai is a fairly easy process. You simply have to visit their website and click the "Apply" button. You will then be directed to a registration page where you have to fill in your details and create a profile. Once you have completed your profile, you will then have to choose the job position you want to apply for.
After you have chosen your job position, Teemwork.ai will then review your application. If you pass the review process, they will send you an email with instructions on how to access the UHRS site where you can start doing the tasks.
Overall, the registration process is pretty
straightforward. However, it can take some time for Teemwork.ai to review your application. It can take up to a few weeks before you receive an email from them.
Pros and Cons of Teemwork.ai Like any other online opportunity, Teemwork.ai has its own set of advantages and disadvantages. Here are some of the pros and cons that you should consider before deciding to join:
Pros of Teemwork.ai
The legit site that pays for completed tasks
Offers a variety of tasks to choose from
Payment is processed automatically
Offers convenient payment options
Available worldwide
Cons of Teemwork.ai
High payout threshold
The review process can take some time
Payment processing time is not specified
Tasks may require extensive training and a qualification process
Teemwork.ai Frequently Asked Questions (FAQS)
What types of remote jobs does Teemwork.ai offer?
Teemwork.ai has a variety of jobs that can be done from home, such as customer service, technical support, sales, marketing, and more.
What are the requirements to apply for a remote job at Teemwork.ai?
The requirements for remote jobs at Teemwork.ai may vary depending on the specific role. But in general, applicants need a fast internet connection, a computer, and the software and hardware needed to do the job. Some roles may also require specific qualifications or experience.
How do I apply for a remote job at Teemwork.ai?
Teemwork.ai has a section on their website called "careers" where you can apply for a job that you can do from home. From there, you can look at the jobs that are available and apply for one that fits your skills and qualifications.
What is the hiring process for remote jobs at Teemwork.ai?
Teemwork.ai may have different ways to hire people for remote jobs depending on the role. In general, though, you have to fill out an online application, go to one or more interviews, and maybe even take a skills test or assessment.
How much does Teemwork.ai pay remote employees?
Teemwork.ai employees who work from home may get paid differently depending on the role they have and their skills and experience. But the company has competitive pay packages and may offer extra benefits like health insurance and paid time off.
Are there opportunities for career growth at Teemwork.ai?
Yes, Teemwork.ai offers opportunities for career growth and development for its remote employees. The company encourages its employees to keep learning and improving, and it may offer training and development programs to help them do so.
Can remote employees at Teemwork.ai work flexible hours?
Yes, Teemwork.ai has a lot of jobs that can be done from home and have flexible hours to fit employees' schedules and preferences. However, the specific hours and schedule may vary depending on the role and the needs of the business.
What is the company culture like at Teemwork.ai?
Teemwork.ai values a positive, inclusive, and collaborative company culture. The company values diversity and working as a team, and employees may be able to connect and work together virtually, even if they work from home.
How does Teemwork.ai ensure remote employees have the necessary resources and support?
Teemwork.ai gives its remote workers access to software, hardware, and training programs, as well as the help and resources they need to do their jobs well. Additionally, the company may provide ongoing support and communication channels to help remote employees stay connected and engaged.
How does Teemwork.ai ensure the security of its remote employees' data and information?
Teemwork.ai takes the security and privacy of its employees' data and information seriously. The company may use secure tools for communication and collaboration and take strict security measures to protect the data and information of its employees from being hacked or accessed by unauthorized people.
Conclusion of Teemwork.ai Reviews: Teemwork.ai Work From Home Jobs.
Overall, Teemwork.ai is a legit micro job site that offers opportunities to earn extra cash by completing IT-related tasks. Even though it has a high payout threshold and doesn't say how long it takes to process payments, you can still get paid easily and choose from a variety of tasks.
But not everyone may be able to handle the long training and qualification process for some jobs. If you are willing to put in the effort and have the necessary skills for the tasks, Teemwork.ai can be a good opportunity to earn extra cash from home.
As with any online opportunity, it is important to do your research and consider the pros and cons before making a decision.